| | |
| --- | --- |
| updated:3/4/2017 | |
| | |
Contemporary Artist of Energy Mimi Stuart is known for her

Signature Style: EOS — Energy of Subject
copyright © 2017 mimiart.com
All images at mimiart.com are covered by U.S. copyright
Transmission or reproduction without prior written permission is prohibited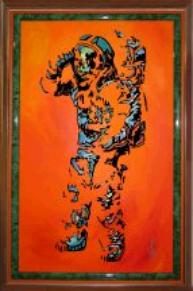 Sr. Curator Dr. Tom Crouch presents Mimi Stuart's painting of the late great Astronaut Eugene Cernan at the High Art Exhibition in Washington DC. It is in the permanent collection of the Smithsonian National Air and Space Museum.
"Walking on Diamonds"
As Gene Cernan made his first steps on the moon, he was awestruck by the sight of millions of tiny diamonds glistening beneath his feet.